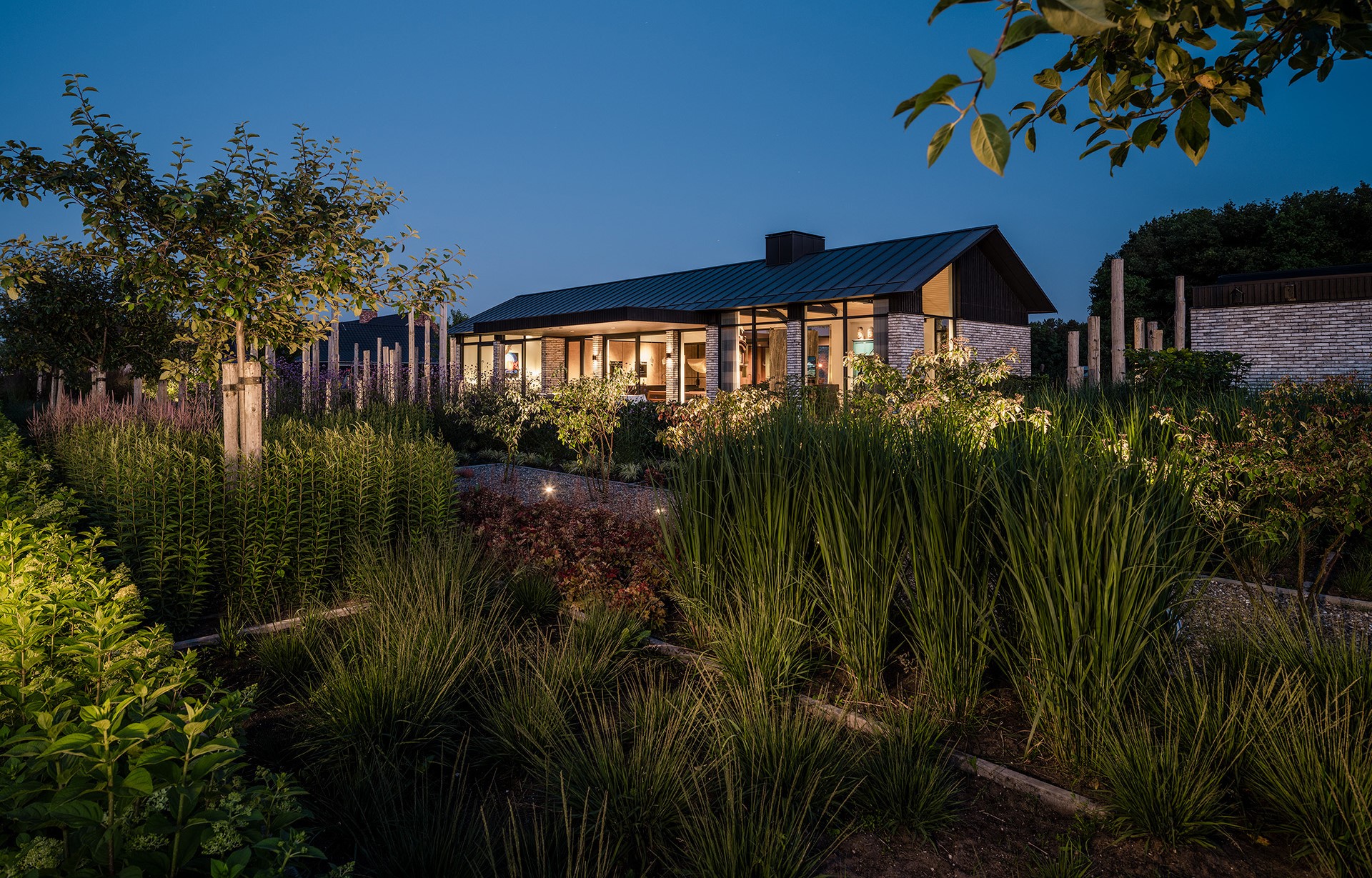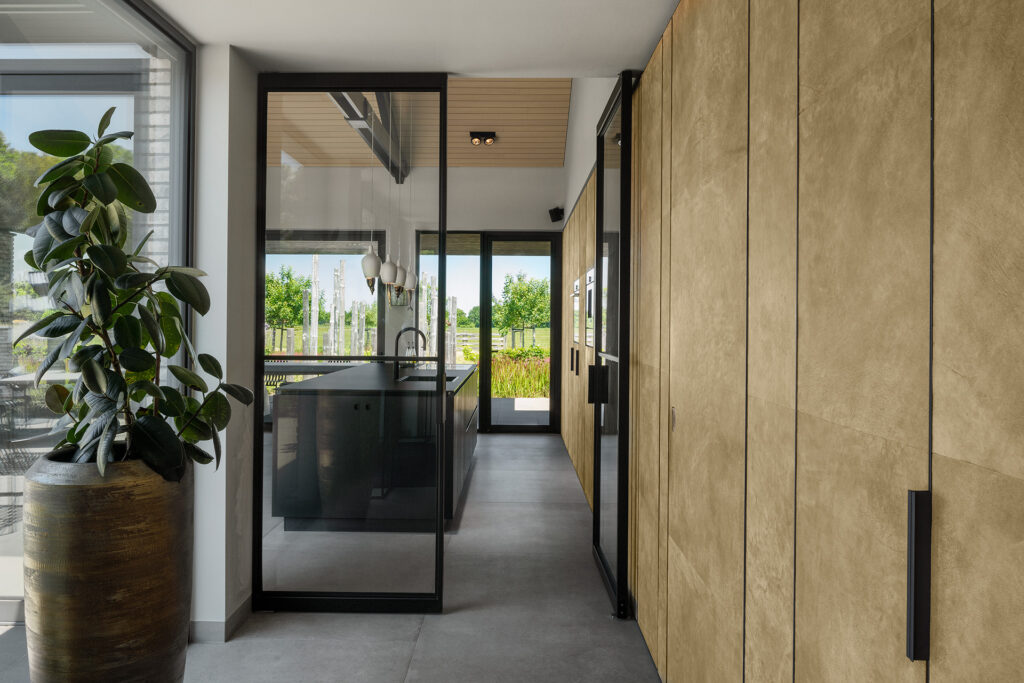 Eigen haard? Precies: GOUD waard
Wat een power heeft deze woning! Neem de centrale doorgang. Achter de lange wand zijn ruimtes als de wc, meterkast en masterbedroom onzichtbaar weggewerkt. En die wand? Die is van leer. Sterker nog, goud leer! Kan het krachtiger? Uniek is het in elk geval, en dat past precies bij de uitgesproken stijl van de opdrachtgevers.
Subtiel tot en met
Deze is woning is áf. Oftewel, tot in finesse doorgedetailleerd. De naden in de verfijnde gevelbekleding lopen overal door. Niet alleen buiten maar ook binnen, waardoor één geheel ontstaat met de verfijnde open lattenstructuur van het plafond. Ook de dakvoet is heel subtiel uitgevoerd. En natuurlijk zijn alle elementen van de technische installaties, inclusief de ventielen, volledig weggewerkt.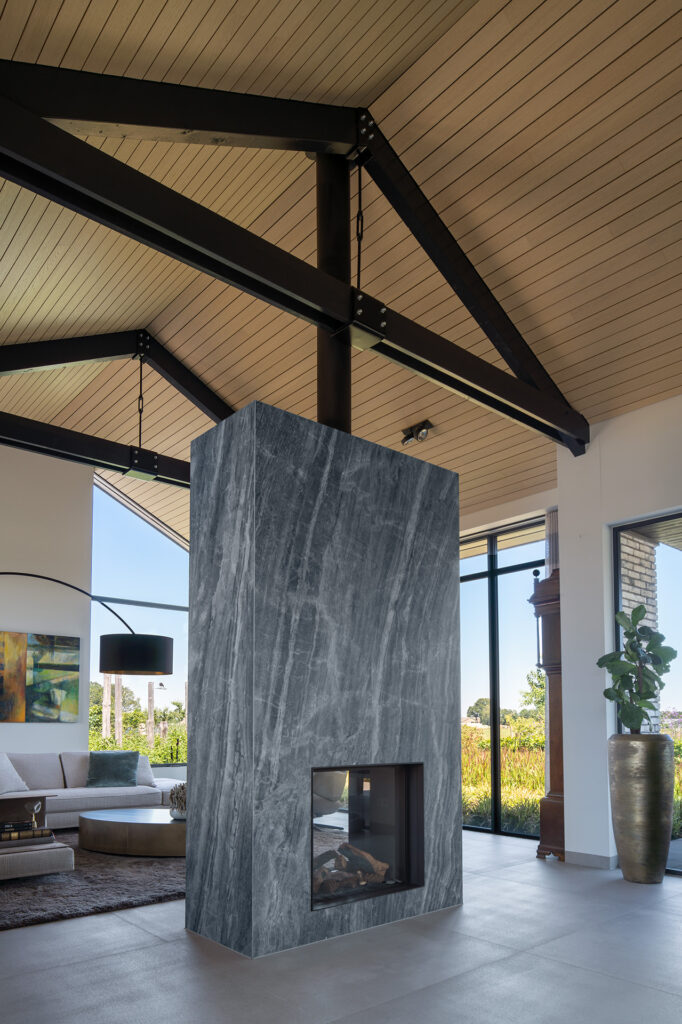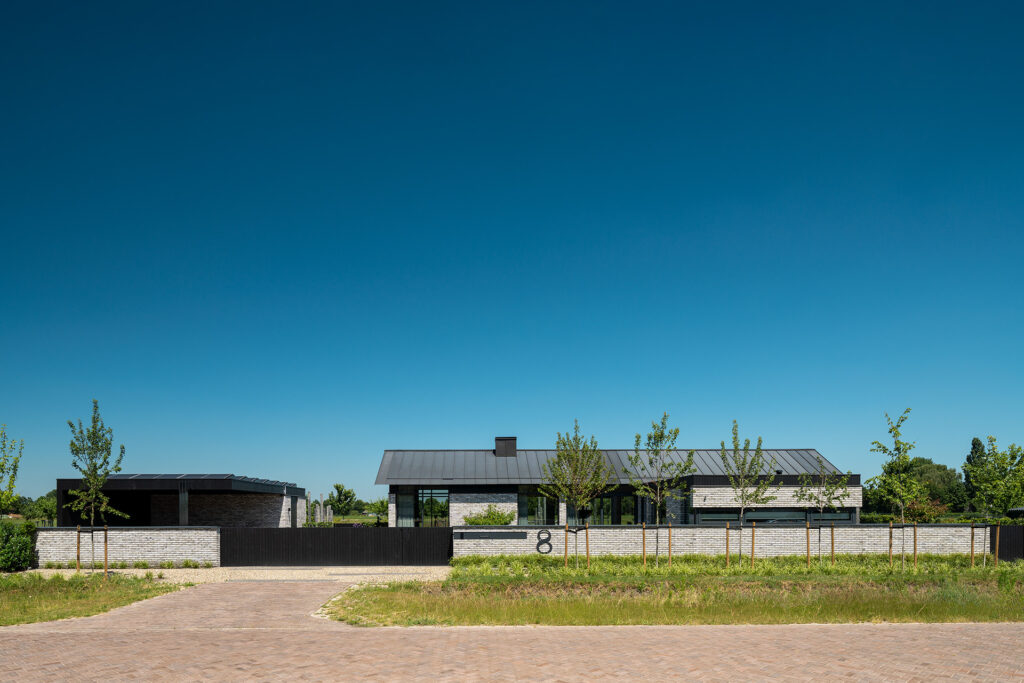 Tot in lengte van dagen
De woning is subtiel qua formaat. Maar dat zegt niks over de impact die zij maakt als je dichterbij komt. De lange wand en brede poort zijn exact uitgelijnd met de woning en geven de lengte een superboost! De wand versterkt bovendien het besloten karakter van het geheel.
La dolce vita
De achterzijde biedt maximaal uitzicht op het landgoed, een schitterende plek die de bewoners bewust hebben uitgezocht. De grote raampartijen kunnen volledig opengeschoven worden, waardoor één geheel ontstaat met het terras onder de overkapping en de buitenomgeving. En hoe rustgevend is dit: in bad zitten terwijl de schapen op enkele meters afstand onder de fruitbomen staan te grazen. Genieten to the max en in alle privacy!